When you lay someone to rest, their grave marker becomes a part of their legacy. Classic Choice, Inc. is here to help you ensure your loved one is immortalized with a grave marker that does their memory justice. We're your premier choice for custom-designed gravestones and we take pride in providing a full range of services for headstone maintenance in Long Island, NY.
Headstone & Monument Design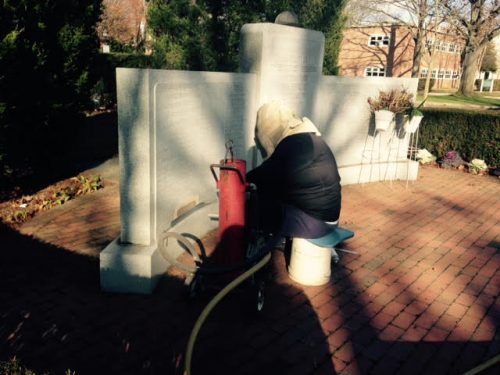 As an experienced gravestone maker in Long Island, NY, we're able to work on memorial headstones and monuments of all types. We have experience working on Catholic, Jewish and Non-Sectarian memorials, and take immense pride in being able to do justice to these markers and the special people they immortalize.
We do all work from start to finish in-house, instead of relying on outside companies. This means your gravestone is designed and handled from conception to fruition by our caring, compassionate team. From the moment you come to us, to the moment the grave marker is unveiled, we're the only ones handling it.
Grave Marker Maintenance
In addition to designing beautiful, commemorative grave markers, we're also able to provide you with maintenance for existing markers that need an expert touch. Some of the services we offer include:
New lettering: Need lettering done to a precise degree? We're happy to letter on dates, names and personal messages as needed for existing gravestones.
Match existing lettering: If you have existing dates, numerals or names on a grave marker, we can match the script perfectly for a seamless look.
Memorial cleaning: Have a graver marker that needs to be cleaned up and restored to its fullest glory? We can handle this task.
Etchings and photos: In addition to lettering and headstone inscriptions in Long Island, NY, we can also put a person's face on a memorial through a lifelike etching.
Re-caulking: We expertly fix the caulking between the base and the actual memorial to ensure it stands proud and true for years to come.
New foundations: If time and weathering have damaged the foundation of a grave marker, we can create a new cement base for the monument to sit on.
New installations: When your gravestone is finished and needs to be prepped for installation, we're available to transport and install it in a cemetery.
Raise sinking memorials: Sinking memorials can become a problem long-term. We raise and reestablish sinking markers to keep them upright and proud.
For any of the above services or to inquire about a customized quote for gravestone design, contact us today at 631-920-5777.
Cemeteries serviced:
St. Charles Cemetery
St. John Cemetery
Mt. St. Marys Cemetery
Holy Rood Cemetery
Breslau Cemetery
North Babylon Cemetery
St. John of God Cemetery
Queen of All Saints Cemetery
Holy Sepulchre Cemetery
Oakwood Cemetery
St. Pat's of Bay Shore Cemetery
Melville Cemetery
Gate of Heaven Cemetery
Greenwood Union Cemetery
Rockland Cemetery
St. Peters Cemetery
St. Anthonys Cemetery
Oak Hill Cemetery
St. Raymond's Cemetery
New Montefiore Cemetery
Old Montefiore Cemetery
Beth David Cemetery
Beth Moses Cemetery
Wellwood Cemetery
Mt. Ararat Cemetery
Mt. Golda Cemetery